ZPS.3 Slide for Glock 17 Gen 3 – Spectrum
$299.00
Zaffiri Precision ZPS.3 slide for Glock 17 Gen 3 – Spectrum.
Our single billet 17-4 stainless steel slides are made with tight tolerances that allow an increase in accuracy and performance. 100% American made and manufactured at our facility in Largo, FL. These are among the best aftermarket slides available for Glock. This slide is pre-cut and pre-coated and no changes can be made. Please see our Custom Line if you're looking for different optic cuts or color options.
Compatible with and designed to fit Glock 17 – Gen 3 frame.
Features:
100% made in the USA
Machined from billet 17-4 Stainless Steel
Slide Model: ZPS.3
Optic Cut – Trijicon RMR / SRO and Holosun 407c / 507c
This Slide is pre-cut and pre-coated with Spectrum
Black anodized optics cover plate and screws included
Exploring the Glock 17 Gen 3 Slide
If you're in the market for a Glock 17 Gen 3 slide or related parts, you've come to the right place. Multigunshop.com is your ultimate destination for all things Glock. Offering a wide range of options to customize or replace your G 17 Gen 3 slide. In this comprehensive guide. We'll delve into what the Glock 17 Gen 3 slide is and why it's essential, as well as explore the various components and options available on our platform.
Why Trust Multigunshop.com for Your Glock 17 Gen 3 Slide Needs
Before we dive into the details of the G 17 Gen 3 slide, let's address the importance of choosing a trustworthy platform like Multigunshop.com. Our commitment to quality, customer satisfaction, and the best selection of Glock accessories and parts has made us a preferred choice among firearm enthusiasts. We source our products from reputable manufacturers to ensure the highest standards of performance and safety.
An Overview
The G 17 Gen 3 slide is a critical component of the G 17 Gen 3 pistol, which is renowned for its reliability and accuracy. It plays a pivotal role in the firearm's functionality, as it houses the barrel and recoil spring assembly, enabling the gun to cycle smoothly with each shot fired. Whether you're looking to replace a worn-out slide or upgrade your G 17 Gen 3. Multigunshop.com has you covered.
Components of the Glock 17 Gen 3 Slide
When searching for G 17 Gen 3 slide options, you'll encounter several components and configurations. Here are the key elements you need to consider:
4.1 Glock 17 Gen 3 Complete Slide
A complete slide assembly typically includes the slide itself, the barrel, recoil spring, and other essential parts. It's an ideal choice if you want to replace your existing slide or build a custom G 17 Gen 3 pistol from the ground up. At Multigunshop.com, we offer a wide range of complete slides. Ensuring you'll find the perfect fit for your needs.
4.2 Glock 17 Gen 3 Slide Parts Kit
If you're a DIY enthusiast or prefer to customize your G 17 Gen 3 slide, a slide parts kit is an excellent option. These kits often include components like the slide, barrel, sights, and small parts. By choosing a parts kit, you have the flexibility to select the individual components you want to incorporate into your firearm.
4.3 Glock 17 Gen 3 MOS Slide
The Modular Optic System (MOS) slide is designed for shooters who want to mount various optics like red dot sights to their G 17 Gen 3. The MOS slide features a specialized mounting platform. Making it easy to attach optics securely. Multigunshop.com offers a range of G 17 Gen 3 MOS slides to cater to different optic preferences.
 What Sets Multigunshop.com Apart
When it comes to finding the perfect G 17 Gen 3 slide or related parts, Multigunshop.com stands out for several reasons:
5.1 Extensive Selection: We boast an extensive selection of G 17 Gen 3 slides and parts. Ensuring you can find exactly what you need to enhance your firearm.
5.2 Quality Assurance: We prioritize quality and safety. Offering products from reputable manufacturers to guarantee top-notch performance and durability.
5.3 Expert Support: Our team of firearm experts is ready to assist you in selecting the right G 17 Gen 3 slide components. Answering your questions, and providing guidance on installation.
5.4 Competitive Pricing: We understand the importance of affordability without compromising on quality. Our pricing is competitive. Allowing you to upgrade your Glock without breaking the bank.
5.5 Secure Shopping: Multigunshop.com provides a secure and user-friendly shopping experience. Ensuring your personal and payment information is protected.
In conclusion,
If you're in search of a G 17 Gen 3 slide, complete slide, slide parts kit. Or MOS slide, Multigunshop.com is your one-stop destination. Our commitment to quality, extensive selection, and expert support. Make us the most trusted platform for all your Glock accessory needs. Explore our range of G 17 Gen 3 slide options today and experience the difference for yourself. Your Glock will thank you for it.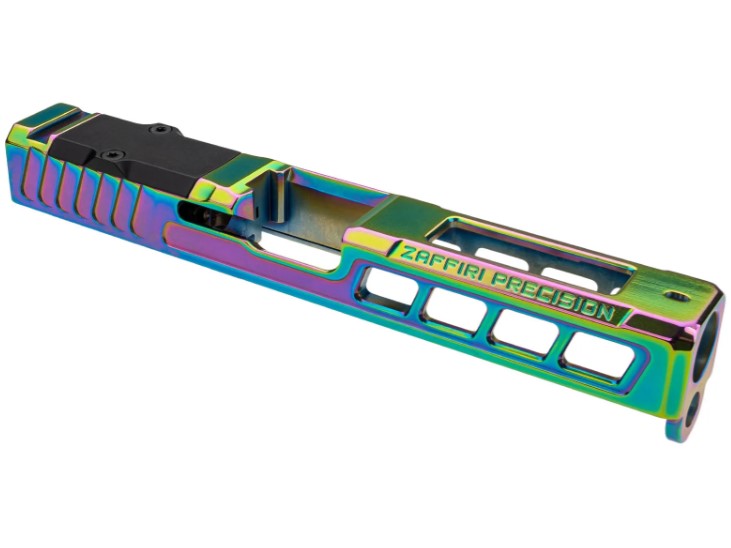 Related products
GLOCK 42 Semi-Auto Pistol

$

499.00

The GLOCK® 42 Semi-Auto Pistol is a slim, subcompact semi-auto pistol designed specifically for concealed carry. Made with the same materials and quality control as all GLOCK semi-automatic pistols, the G42 is a carry gun you can count on at the moment of truth. Internally, the GLOCK 42 employs the same striker, short-recoil operated, and locked-breech barrel as the larger framed GLOCK pistols, and uses a dual recoil spring assembly as the Gen4 pistols. The Safe-Action trigger system makes shooting in stressed situations infallible. The rough textured polymer grip provides a solid hold, and while quite concealable, it offers shooters enough surface area for ultimate control. The white-dot front sight and the white-bracket rear sight provide rapid acquisition in dim lighting situations. The length, shape, finger rest, and size of the trigger opening are the same as the larger pistols, and the trigger is same size and shape as the smooth-faced triggers used on the Gen4 pistols, making them all familiar to those who already use GLOCK pistols. The GLOCK 42 Semi-Auto Pistol is a reliable, easy to maintain firearm that's perfect for everyday carry. The G42 comes with 2 ultra-reliable single-stack 6-round magazines.

Slim, subcompact for concealed carry
Same internal mechanism as larger GLOCKs
Dual recoil spring assembly
Safe-Action trigger system
Rough grip texturing
Drift adjustable rear sight
Comes with 2 magazines

Add to cart