glock 17 gen 4
$499.00
Firearm Specifications
Caliber: 9×19 (9mm)
Magazine Capacity: 17 Rounds
Model: PG1750203
Barrel Length (inches): 4.48
Overall Length (inches): 7.95
Height (inches): 5.43
Trigger Pull: 5.5 lbs.
Weight (unloaded): 22.05 oz.

Glock 17 Gen4 Pistol Accessories

Your new GLOCK pistol is delivered as a complete set. The hard shell case which houses your pistol also includes a speed loader, three magazines, two backstraps, a cleaning set, a MBS tool, a cable lock and instruction manual.

What's in the Box

Glock 17 (Gen4) Pistol
(3) Magazines
(2) Interchangeable Back Straps
Speed Loader
Pistol Cleaning Set
Back Strap Disassembly Tool (MBS)
Cable Lock
Hard Shell Case
Owner's Instruction Manual
Glock 17 Gen 4: Unparalleled Performance and Reliability, Introducing the Glock 17 Gen 4
The Glock 17 Gen 4 is a true masterpiece in the world of handguns. With its unmatched performance, reliability, and cutting-edge features, this pistol has become the go-to choice for law enforcement agencies, military personnel, and responsible gun owners alike. Built on the foundation of Glock's renowned reputation. The Gen 4 takes it to the next level with enhanced ergonomics, improved handling, and increased versatility.
Unrivaled Performance(glock 17 gen 4
The Glock 17 Gen 4 is chambered in 9mm, making it a versatile and widely accessible caliber for both personal defense and professional use. Its 17+1 round capacity ensures you have ample firepower when you need it most. The firearm's durable construction, precision engineering, and innovative Safe Action System contribute to its exceptional accuracy. Making it a reliable companion in any shooting scenario.
Enhanced Ergonomics
Also, The Gen 4 model incorporates several ergonomic improvements for an optimal shooting experience. Its modular backstrap system allows you to customize the grip to fit your hand size perfectly, enhancing comfort and control. The rough-textured frame and checkered grip offer a firm hold, even in adverse conditions, providing you with confidence and stability during rapid fire.
Improved Handling and Versatility
The Glock 17 Gen 4 features a dual recoil spring assembly, reducing felt recoil and improving the pistol's overall balance. This results in faster follow-up shots and enhanced control, ensuring you stay on target. With an accessory rail built into the frame, you have the option to attach lights, lasers, or other tactical accessories, further expanding the gun's capabilities and adaptability to various situations.
Reliability and Durability
Glock is synonymous with reliability, and the Gen 4 is no exception. It incorporates the legendary Glock reliability, ensuring that your firearm functions flawlessly, even in the harshest environments. The Glock 17. Gen 4 is constructed with high-quality materials, featuring a corrosion-resistant finish and a cold-hammered, Tenifer-coated barrel for exceptional durability and longevity.
Safe and Easy Operation
Also, The Glock 17. Gen 4 incorporates multiple safety features to provide peace of mind. Its trigger safety, firing pin safety, and drop safety mechanisms work seamlessly together. Preventing accidental discharges and ensuring safe handling at all times. More so,The pistol's intuitive controls and consistent trigger pull allow for quick and easy operation, enabling you to focus on your target without any distractions.
A Timeless Classic, Perfected
In summary, the Glock 17. Gen 4 is the epitome of perfection and innovation in handgun design. With its unparalleled performance, enhanced ergonomics, improved handling, and unwavering reliability, it continues to set the benchmark for the industry. Also, Whether you're a seasoned professional or a responsible citizen seeking a reliable self-defense option, the Glock 17. Gen 4 is the ultimate choice, delivering performance you can trust when it matters most.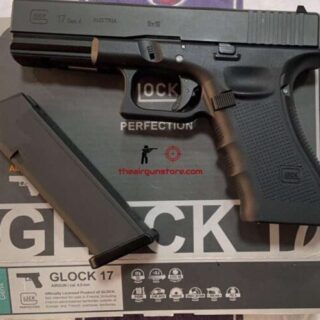 Related products
GLOCK 42 Semi-Auto Pistol

$

499.00

The GLOCK® 42 Semi-Auto Pistol is a slim, subcompact semi-auto pistol designed specifically for concealed carry. Made with the same materials and quality control as all GLOCK semi-automatic pistols, the G42 is a carry gun you can count on at the moment of truth. Internally, the GLOCK 42 employs the same striker, short-recoil operated, and locked-breech barrel as the larger framed GLOCK pistols, and uses a dual recoil spring assembly as the Gen4 pistols. The Safe-Action trigger system makes shooting in stressed situations infallible. The rough textured polymer grip provides a solid hold, and while quite concealable, it offers shooters enough surface area for ultimate control. The white-dot front sight and the white-bracket rear sight provide rapid acquisition in dim lighting situations. The length, shape, finger rest, and size of the trigger opening are the same as the larger pistols, and the trigger is same size and shape as the smooth-faced triggers used on the Gen4 pistols, making them all familiar to those who already use GLOCK pistols. The GLOCK 42 Semi-Auto Pistol is a reliable, easy to maintain firearm that's perfect for everyday carry. The G42 comes with 2 ultra-reliable single-stack 6-round magazines.

Slim, subcompact for concealed carry
Same internal mechanism as larger GLOCKs
Dual recoil spring assembly
Safe-Action trigger system
Rough grip texturing
Drift adjustable rear sight
Comes with 2 magazines

Add to cart