Glock 20 OWB Holster – USA Made – Fits Glock 20, 21 (Gen 3, 4, 5) – Outside Waistband Open Carry (Right Hand) – Signature OWB Holster by Blade-Tech Holsters
$40.00
| | |
| --- | --- |
| Size | Glock / 20/21 |
| Brand | Blade-Tech |
| Hand Orientation | Right |
| Material | Polypropylene |
| Style | Tek-Lok |
| Color | Black |
| Closure Type | Lock |
Introducing the Ultimate Glock 20 Holster
The Glock 20 Holster is the perfect companion for your Glock 20 pistol, offering unparalleled comfort and concealment without compromising on security. Crafted with precision and designed to cater to the needs of both professional law enforcement officers and everyday concealed carry enthusiasts, this holster is a testament to the fusion of functionality and style.
Superior Construction and Durability(glock 20 holster
At the heart of the Glock 20 Holster lies its robust construction and impeccable durability. Engineered from premium-grade materials, the holster boasts reinforced stitching and rugged hardware that ensure it stands the test of time. The high-quality materials also provide resistance against wear and tear, making it an ideal choice for those seeking a long-lasting holster that can keep up with their active lifestyle.
Quick-Draw Access for Critical Situations
When it comes to self-defense, every second counts. The Glock 20 Holster is designed with a quick-draw mechanism, allowing you to access your firearm swiftly and efficiently in critical situations. The adjustable retention strap ensures a secure fit, preventing accidental release while still providing easy and intuitive access when you need it most.
Customizable Cant and Carry Position
We understand that comfort and personal preferences vary, which is why the Glock 20 Holster offers customizable cant and carry position options. With multiple adjustment settings, you can find the perfect angle and position that fits your body shape and draw style. Whether you prefer appendix carry, hip carry, or small of the back. This holster adapts to your needs seamlessly.
Concealment Made Effortless
Concealing a full-sized pistol like the Glock 20 can be a challenge, but our holster has been engineered with discretion in mind. The slim and contoured design of the Glock Holster hugs your body, minimizing printing and enhancing concealment. With its low-profile silhouette, you can confidently carry your Glock 20 without drawing unwanted attention.
All-Day Comfort with Breathable Materials
Comfort is key when it comes to concealed carry. The Glock Holster features a breathable neoprene backing that wicks away moisture, keeping you dry and comfortable all day long. The neoprene material also prevents chafing and irritation, ensuring that carrying your Glock 20 remains a hassle-free experience.
Versatile Fit for Glock 20 Gen 3, Gen 4, and Gen 5
Whether you own a Glock 20 Gen 3, Gen 4, or Gen 5. Our holsters provides a secure and glove-like fit for each model. You can rest assured that your pistol will sit snugly in the holster, ready for action whenever you need it. The Glock Holster's universal fit makes it a smart investment for Glock owners with different generations of the popular firearm.
Conclusion: The Glock Holster – Your Trusted Companion
In summary, the Glock Holster is the ultimate blend of comfort, durability, and versatility. Its superior construction ensures that it can handle the demands of everyday carry, while the customizable options cater to individual preferences. With quick-draw access and excellent concealment. This holster empowers you to stay prepared and protected throughout the day. Whether you are a law enforcement officer, a security professional, or a responsible citizen exercising your Second Amendment rights, the Glock Holster is the trusted companion you can rely on. Carry with confidence and comfort – choose the Glock 20 Holster today.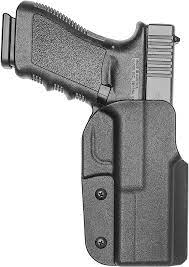 Related products
glock 43 extended mag

$

19.99

ETS GLOCK 43 12 ROUND EXTENDED MAGAZINE

FEATURES

Fits the Glock 43
12-round capacity extends 2″ below the magwell
Compatible with Glock and aftermarket floorplates
Easy disassembly with our specially designed baseplate
Ergonomically designed floorplate makes it easy to grab from mag pouches
Lifetime Warranty

ADVANCED POLYMER BENEFITS

Extreme Impact Resistance—won't crack or break when dropped
Very resistant to harsh chemicals
Superior heat, cold and UV resistance—won't become brittle over time even when exposed to harsh environments or extreme cold
Translucent body—allowing you to see your ammo count and type
Creep resistant—the feed lips and body won't spread when being stored long term even when fully loaded

Add to cart