sig sauer p365 xmacro
$599.00
The P365-XMACRO COMP brings MORE of everything that made the P365 the #1 selling gun in America.
With an innovative new magazine design the P365-XMACRO COMP packs a full-size 17+1 round capacity into the thin, iconic profile of the P365. The P365-XMACRO is also more shootable, with an integrated compensator that reduces muzzle flip and makes follow-up shots faster and more accurate. And with its slim, 1" wide design the P365-XMACRO COMP is more concealable and more comfortable to carry than any other 17 round gun on the market.
More capacity.
More shootability.
More concealability.
The P365-XMACRO. MACRO means MORE.
P365-XMACRO COMP Features:
All-New Macro-Compact Grip Module Featuring Standard 1913 Rail
Integrally Compensated Optic Ready Slide
(2) 17rd Steel Magazines with High Visibility Followers
Interchangeable Small, Medium, and Large Backstrap Included
3.1″ BARREL
XRAY3 Day/Night Sights
Compatible with SIG SAUER ROMEOZero
Introducing the SIG Sauer P365 XMacro – The Ultimate Concealed Carry Pistol
The SIG Sauer P365 XMacro a compact concealed carry handgun that is perfect for everyday use. With a length of just 5.8 inches and a height of 4.3 inches, it is small enough to conceal in a waistband or pocket, while still packing a punch.
Enhanced Features
The P365 XMacro features an enhanced grip module with an extended beavertail and integrated magwell. This provides a secure and comfortable grip that allows for improved control and accuracy. The slide is also optics ready, allowing for easy installation of your favorite red dot sight.
The P365 XMacro comes with a 12-round magazine and an extra 15-round magazine, allowing you to carry a total of 27 rounds. This gives you peace of mind knowing that you have enough ammunition for any situation.
Performance of the sig sauer p365 xmacro
The P365 XMacro is chambered in 9mm, which is a popular and reliable caliber for self-defense. It has a smooth trigger pull and minimal reset, allowing for rapid follow-up shots. The XRay3 front sight and night sight rear provide excellent target acquisition in any lighting conditions.
Durability and Reliability of the sig sauer. P365 xmacro
SIG Sauer is known for producing high-quality firearms that are built to last. The P365 XMacro is no exception. It has a stainless steel slide and polymer frame, providing both durability and lightness. The barrel is also made of stainless steel, which is rust-resistant and long-lasting.
The P365 XMacro has undergone rigorous testing and has proven to be reliable in any condition. Whether you are at the range or in a self-defense situation, you can rely on the P365 XMacro to perform.
Conclusion
If you are in need of a compact concealed carry handgun that is reliable, durable, and packed with features, then the SIG Sauer P365 XMacro is the firearm for you. With its compact design, enhanced features, and exceptional performance, it the ultimate concealed carry pistol.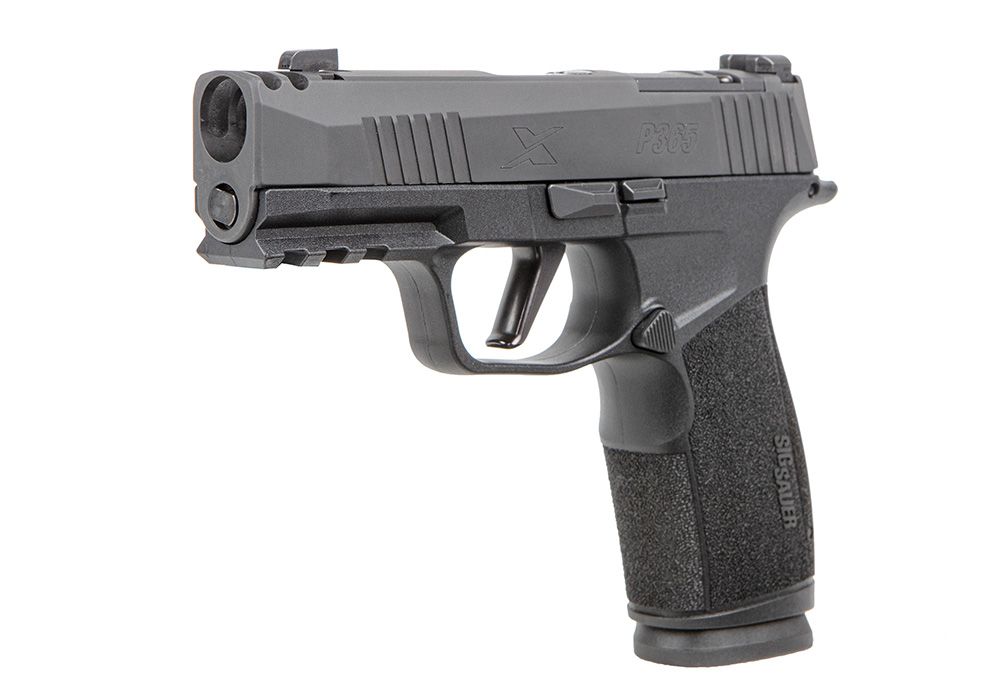 Related products
Ruger AR-556 5.56 NATO Pistol

$

760.00

PRODUCT DETAILS

DETAILS

Caliber: 5.56 NATO / .223 Rem
Brace: SB Tactical SBA3 Pistol Stabilizing Brace
Sights: None
Handguard: 9" Free-Float with M-Lok Attachment Slots
Receiver Finish: Type III Hardcoat Anodized
Receiver Material: 7075-T6 Aluminum
Barrel Material: Cold Hammer Forged 4140 CMV
Thread Pattern: ½" – 28
Grooves: 5
Twist: 1:8 RH
Barrel Length: 10.50"
Overall Length: 25.30" (Closed) – 27.90" (Open)
Height: 7.2"
Weight: 6.2 lbs.
Magazine: 30 Round Magpul PMAG

FEATURES

The Ruger AR-556 Pistol is not your standard AR style pistol, the AR-556 is made with premium accessories to Ruger's precision standards. This version of the AR-556 Pistol is equipped with the SB Tactical SBA3 Stabilizing Brace. The SBA3 will give you excellent control and maneuverability of the AR-556 with the added ability to adjust the length to fit most shooters. The heart of any rifle is the barrel and the AR-556 features a heavy contour, cold hammer-forged barrel with ultra-precise rifling that provides exceptional accuracy, longevity, and easy cleaning. The 1:8″ twist rate stabilizes bullets from 35 to 77 grains, and the 5.56 NATO chamber allows the use of both 5.56 NATO and .223 Rem. ammunition. M4 feed ramps provide improved reliability, and the matte black oxide finish reduces glare and provides corrosion resistance. A Ruger flash suppressor is provided, and the 1/2″-28 threaded barrel allows for standard muzzle accessories to be installed. Whether your intention is for plinking and target shooting, or for tactical and home defense, go with a name and brand you trust, choose the Ruger AR-556.

Features:

– Lower receiver is fitted with an adjustable SB Tactical® SBA3™ Pistol Stabilizing Brace® to aid in accuracy, balance and recoil management.
– Handguard is free-floating for accuracy and the slim, 9″ length provides enhanced ergonomics and support. Magpul M-LOK accessory attachment slots along the 3:00, 6:00 and 9:00 positions.
– Made from aerospace-grade 7075-T6 aluminum forging, the flattop upper receiver includes a forward assist, dust cover and brass deflector.
– Bolt is machined from 9310 alloy steel and is shot peened and pressure (proof) tested to ensure strength, structural integrity, and durability.

When it comes to Modern Sporting Rifles, Parts and Accessories, Palmetto State has the widest selection at the best prices!

Add to cart