Ruger 10/22 Magazine
$22.99
Important Product and Safety Information
You must be 18 years old to purchase this product. In ordering this product, you certify that you are at least 18 years old and satisfy your jurisdiction's legal requirements to purchase this product.
The sale or shipment of this product to residents of certain jurisdictions is prohibited. Check your local laws before ordering this product. Check your local laws for any other regulations.
We recommend the use of protective eyewear whenever using or near the use of this item.
Combining lightweight polymer construction with steel-reinforced feed lips, and a rugged design that ensures long-term rimfire reliability, Ruger's BX-1 magazines are designed for maximum reliability and consistent feeding.
America's most popular rimfire rifle for over half a century, the Ruger 10/22 is an iconic firearm that you probably already own. These BX-1 magazines were designed in-house by Sturm Ruger & Co. to go along with other BX series upgrades and elevate the average 10/22 into something even better …
Ruger's rotary 10/22 magazine is already an ultra-reliable piece of hardware, but BX-1 magazines take it to the next level with superior craftsmanship and proven performance.
These magazines are compatible with the original 10/22, SR-22, 22 Charger, 22 LR American Rimfire, and 77/22 rifles.
Grab a few BX-1 magazines today and find out what you've been missing!
Ruger 10/22 Magazine: Enhance Your Firepower with Reliability and Precision
When it comes to reliable and accurate performance in your Ruger 10/22 rifle, the right magazine can make all the difference. Introducing the Ruger 10/22 Magazine a high-quality accessory designed to elevate your shooting experience. Whether you're a seasoned marksman, a dedicated sports shooter, or an avid hunter, this magazine is engineered to provide flawless functionality, quick reloads, and improved shooting efficiency.
Unrivaled Reliability for Seamless Shooting( ruger 10/22 magazine
Durability and Construction
Crafted with precision and built to last, the Ruger 10/22 Magazine boasts a robust construction, ensuring it can withstand even the most demanding shooting scenarios. The magazine body is constructed from high-quality materials, engineered to resist impact, harsh weather conditions, and wear over time. This rugged design translates to consistent feeding, reducing misfires and jams, making it the ideal companion for extended shooting sessions.
Smooth Feeding and Follower
The above heading highlights the magazine's exceptional feeding system. Also, The Ruger 10/22 Magazine employs a specially designed follower that optimizes the ammunition stack, guaranteeing smooth and reliable feeding into the chamber. This translates to a seamless shooting experience, allowing you to maintain focus and precision during rapid-fire sequences.
Enhanced Capacity for Extended Shooting
Generous Round Capacity
In the world of shooting, having an extended round capacity can be a game-changer. With the Ruger 10/22 Magazine, you can enjoy an enhanced round capacity, allowing you to fire more rounds without the need for frequent reloads. Whether you're plinking at the range or participating in shooting competitions, this magazine's higher capacity ensures you stay in the action longer, boosting your overall performance.
Quick and Effortless Reloads
The above heading delves into the magazine's user-friendly design, which enables quick and effortless reloads. The convenient and sturdy magazine design allows for smooth insertion and ejection, minimizing reload time. Spend less time fumbling with magazines and more time focusing on your shooting prowess.
Uncompromising Precision for Consistent Accuracy
Consistent Feed Lips and Spring
A critical component of any magazine is its feed lips and spring. More so, The Ruger 10/22 Magazine is engineered with precise attention to these elements, ensuring consistent pressure and alignment on each round. This consistency translates to enhanced accuracy and grouping, giving you the confidence to hit your targets with pinpoint precision.
Compatibility and Adaptability
Also, The Ruger 10/22 Magazine designed to be compatible with various Ruger 10/22 models. Ensuring it fits snugly and securely without any modifications. This adaptability makes it an excellent option for shooters who own multiple 10/22 rifles or prefer customizing their firearms.
Elevate Your Shooting Experience with the Ruger 10/22. Magazine
Conclusion
In conclusion, the Ruger 10/22. Magazine is a must-have accessory for Ruger. 10/22 rifle owners who seek reliability, extended capacity, and precision. Whether you're honing your skills at the shooting range or heading out for a day of hunting. More so, This magazine's exceptional construction, smooth feeding, and enhanced round capacity will undoubtedly elevate your shooting experience. Also, Invest in the Ruger magazine to unlock the true potential of your Ruger. 10/22 rifle and enjoy a seamless shooting experience like never before.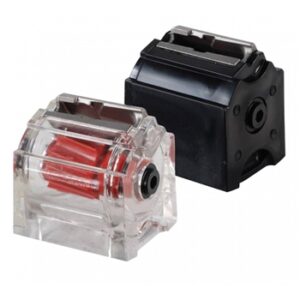 Related products
Ruger Mini-14 .223 / 5.56 10 and 5-Round Magazine Blue Steel

$

34.99

Ruger Mini-14 5 Round Magazine

The Ruger Mini-14 is one of the most versatile .223 Remington rifles ever designed. With widespread use in as diverse areas as western ranches to security operations in Paris, France there is no other rifle that has seen this wide range of end users.

Ruger has recognized the wide spectrum of use that the Mini-14 has and produces an assortment of accessories to be used with the Mini-14. One of these accessories is this five round magazine, which has been produced for the needs of hunters who have capacity restrictions. With the .223 Remington round being ideal for varmint, small game, and predators the Mini-14 has always been high on the list of rifles for this level of hunting. Now that Ruger has produced a factory 5 round magazine, the success of your hunt won't depend upon an aftermarket magazine.

Features:

Ruger Factory Magazine
Designed for the Mini-14
5-Round Capacity
.223 Remingtion / 5.56 Caliber
Blued Steel Finish

Add to cart