Rhino Revolver 60DS (Black Anodized) 357MAG/6″BBL
$1,277.00
| | |
| --- | --- |
| SKU: | 340.221 |
| Menu Type: | Handguns |
| Caliber: | 357 MAG |
| Action: | Single/Double |
| Capacity: | 6 Rounds |
| Grips: | Medium Walnut |
| Rear Sight: | Green Fiber Optic Adjustable |
| Safety: | Internal |
| Total Length: | 10.5" (266mm) |
| Material: | Machined 7075-T6 Alloy Frame Steel Cylinder & Barrel |
| Net Weight: | 0.9 |
| Finishing: | Black Anodized Frame Blued Cylinder |
| Extraction: | Manual |
| Ean/Upc: | 8053670712164 |
Discover the Chiappa Rhino 60DS at Multigunshop.com
Are you on the hunt for the iconic Chiappa Rhino 60DS? Look no further! Multigunshop.com is your most trusted platform for finding everything related to the Chiappa Rhino 60DS, from the firearm itself to holsters and accessories. In this comprehensive guide, we'll explore what the Chiappa Rhino 60DS is, its features, why it's worth your consideration, and where you can find one for sale.
Unveiling the Chiappa Rhino 60DS
The C. R 60DS is a unique and innovative firearm that has taken the gun world by storm. Known for its distinctive design and exceptional performance, this revolver stands out in a sea of traditional handguns. What sets it apart is its barrel placement, which is aligned with the bottom chamber of the cylinder rather than the top, reducing muzzle flip and recoil.
C . R 60DS for Sale – Your Next Firearm
If you're in the market for a C. R 60DS, Multigunshop.com is your ultimate destination. We offer a wide selection of C. R 60DS models, including the coveted C. R 60DS Gold edition, known for its luxurious finish and premium features.
Purchasing a Chiappa Rhino 60DS from our platform ensures you're getting a genuine product from a reputable source. We prioritize your satisfaction and safety, providing a secure and reliable shopping experience. Plus, our competitive prices make owning a C. R 60DS more accessible than ever.
Find the Perfect Chiappa Rhino 60DS Holster
Once you've acquired your C. R 60DS, the next step is finding the ideal holster to complement it. Multigunshop.com offers a variety of C. R 60DS holsters designed for comfort, durability, and ease of use.
Our holsters are carefully selected to ensure they meet the high standards of C. R 60DS owners. Whether you prefer an inside-the-waistband (IWB) holster for concealed carry or an outside-the-waistband (OWB) holster for open carry, you'll find options that suit your needs.
What Makes Chiappa Rhino 60DS a Must-Have Firearm
The C. R 60DS has garnered a reputation as a must-have firearm for enthusiasts and professionals alike. Here's why:
Innovative Design: The Rhino's bottom-aligned barrel reduces recoil, making it easier to control and increasing accuracy. Its unconventional appearance is a conversation starter at the range.
Versatile Caliber Options: Chiappa offers the Rhino 60DS in various calibers, catering to individual preferences. Whether you prefer .357 Magnum, 9mm, or .40 S&W, there's a Rhino for you.
Ergonomic Grip: The Rhino features a comfortable, ergonomic grip that fits naturally in your hand. This ensures better control and less fatigue during extended shooting sessions.
Superior Construction: Chiappa's commitment to quality shines through in the Rhino's construction. It's built to last and withstand rigorous use.
Collector's Editions: For those who appreciate fine craftsmanship, the C. R 60DS Gold edition is a work of art. Its stunning gold finish and attention to detail make it a prized addition to any collection.
In summary
Multigunshop.com is your go-to destination for all things C. R 60DS, whether you're looking to purchase this exceptional firearm, find the perfect holster, or explore the luxurious Gold edition. With our commitment to quality and customer satisfaction, you can trust us to provide a safe and enjoyable shopping experience. Join the ranks of Rhino enthusiasts and discover why the C. R 60DS is a game-changer in the world of firearms.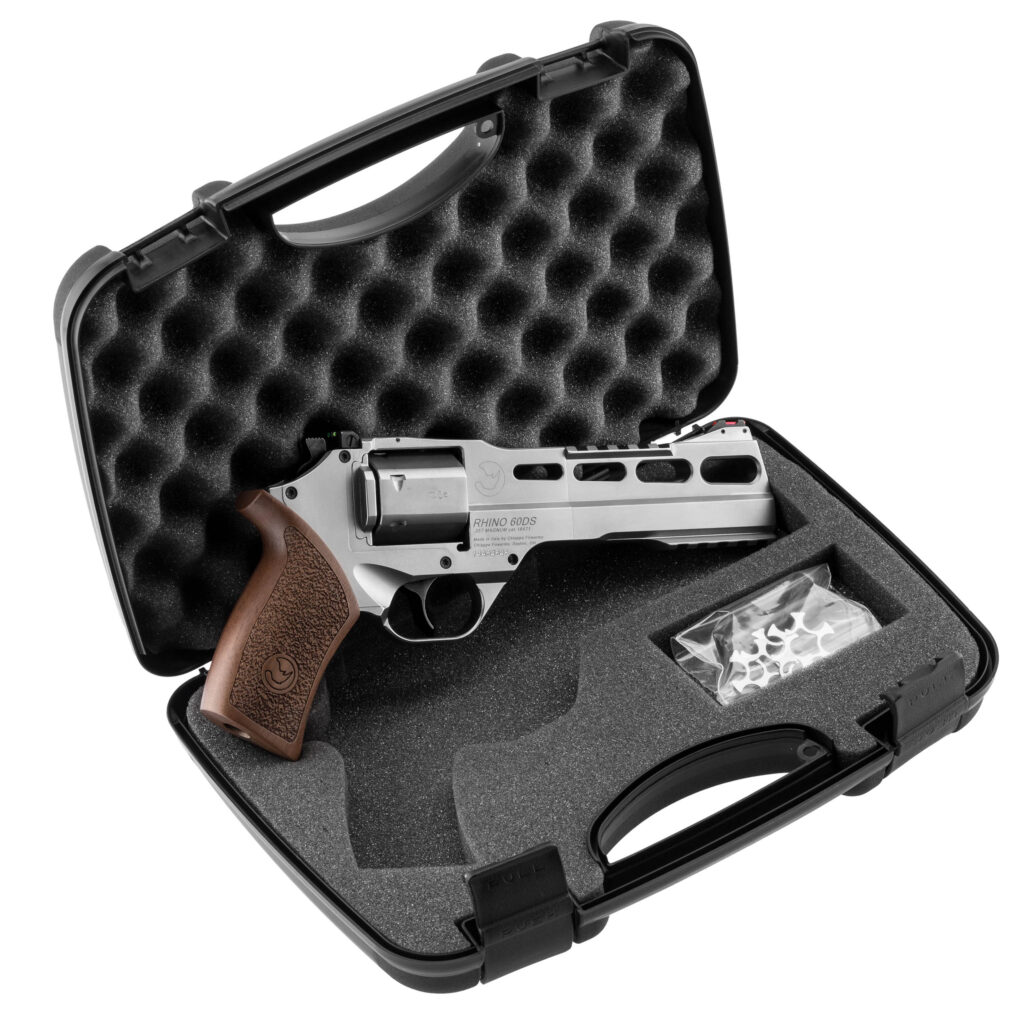 Related products
TAURUS 692

$

679.00

OVERALL WEIGHT

35.00 Oz. (Unloaded)

TWIST RATE

1:10 – in RH twist

THE BASICS

ITEM NUMBER

2-692039

CALIBER

357 MAG / 38 SPECIAL +P / 9MM

FRAME MATERIAL

Stainless Steel

FRAME FINISH

Matte Stainless

CYLINDER MATERIAL

Stainless Steel

CYLINDER FINISH

Matte Stainless

BARREL MATERIAL

Stainless Steel

The 7-shot Taurus 692 Multi-Caliber revolver is designed for reliable everyday carry with this 3-inch barrel version. The Taurus 692 offers the ability to change the caliber from 38 Special +P/357 Magnum, to 9mm Luger with a simple swap of the cylinder. This DA/SA revolver features a seven round capacity, making it an ideal companion for personal and home defense as well as simply shooting more rounds at the range. The 692 revolver has adjustable rear sights, spurred hammer and Taurus' Ribber Grip® that aids in accuracy. The ported barrel on this 3 inch model manages recoil for quicker target re-acquisition. Stellar clips are provided with each revolver.

Add to cart