50 Rounds of .38 Super Ammo by Fiocchi – 129gr FMJ
$30.00
Ammo Overview
Ammo Quantity – 50 rounds
Ammo Manufacturer – Fiocchi
Bullets – 129 grain full-metal-jacket (FMJ)
Ammo Casings – Boxer-primed brass
50 rounds .38 Super Fiocchi 129gr FMJ
If you're looking for high-quality, reliable ammunition for your 38 super ammo. Look no further than this 50-round box of ammo from Fiocchi. These 129gr FMJ (full metal jacket) rounds are perfect for target shooting and training. As they are designed to provide consistent, accurate performance.
One of the standout features of Fiocchi ammo is the company's commitment to using only the highest-quality components in their manufacturing process. This ensures that each round is made to exacting standards, and will perform well in a variety of different firearms. Additionally, Fiocchi uses strict quality control measures to ensure that each box of ammo is up to their standards before it leaves the factory.
Consistent, Accurate Performance( rounds .38 Super Fiocchi 129gr FMJ)
The 129gr FMJ bullet is a great choice for target shooting because it is less likely to expand upon impact, which helps to maintain its shape and provide more consistent performance. This also makes it a great option for training. As it allows you to focus on your technique without worrying about the bullet's performance.
High-Quality Components of these ammo
Fiocchi uses only the best components in their manufacturing process, including top-quality brass cases and non-corrosive primers. This ensures that each round will perform consistently and accurately, and will also help to prolong the life of your firearm. Additionally, the full metal jacket of these rounds helps to protect your barrel from lead fouling. Which can build up over time and affect accuracy.
Great Value of the Ammo
At 50 rounds per box. Also, This ammo is an excellent value. Whether you're a competitive shooter or just someone who enjoys target shooting, this ammo will provide you with the consistent. Accurate performance that you need to hit your targets every time.
In conclusion, 50 rounds of .38 Super Ammo by Fiocchi – 129gr FMJ is perfect for target shooting and training, made with high-quality components, provides consistent and accurate performance, and offers a great value. Order yours today and experience the difference Fiocchi's commitment to quality can make!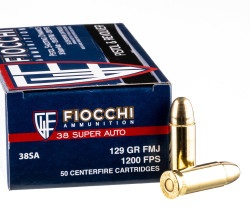 Related products
357 Sig 125 Grain JHP @ 1.480 fps.

$

149.99

This is a 250 round bulk box.

Bullet Weight: 125 Grains.
Bullet Type: Montana Gold, Jacketed Hollow Point.
Muzzle Velocity: 1,480 fps.
Muzzle Energy: 608 ft. lbs.

G35, 5.3″ barrel* @ 1,588.27 fps.

G31 4.49″ barrel @ 1,499.06 fps.

*Alpha Wolf Barrel, 40 to 357 Sig.

This ammunition is new production, non-corrosive, in boxer primed, reloadable brass cases.

Add to cart