P938 BRG MICRO-COMPACT
$499.00
The P938 BRG finish with black Hogue rubber grips offers the ballistic advantage of the 9mm cartridge in a platform similar in size to the best-selling P238 pistol. The stainless steel slide features the popular trademarked SIG SAUER slide serrations, corrosion resistant edge finish and SIGLITE Night Sights. A single-action-only trigger, coupled with full-size SIGLITE Night Sights makes the P938 handle like a much larger pistol, yet is still easy to carry concealed. With dimensions just slightly larger than its .380ACP counterpart, the P938 packs seven plus one rounds of 9mm into an all-metal frame. The single-action trigger gives the P938 unmatched accuracy in a pistol its size. Fans of the 1911 will find the thumb safety, magazine release and slide stop lever in familiar places. An ambidextrous safety makes the P938 easy for left- and right-handed shooters.
Experience Unmatched Versatility and Power with the Sig Sauer P938
When it comes to concealed carry and personal defense, the Sig Sauer P938 stands in a league of its own. This compact and lightweight semi-automatic pistol combines exceptional craftsmanship, innovative design, and impressive firepower. Engineered by Sig Sauer, a renowned firearms manufacturer trusted by professionals worldwide, the P938 offers unmatched versatility and power for discerning shooters.
Superior Design and Performance of Sig Sauer. P938
Firstly, The Sig Sauer P938 is crafted with meticulous attention to detail, ensuring a high-quality firearm that delivers exceptional performance. Its slide is machined from stainless steel for enhanced durability and corrosion resistance, while the frame is constructed from lightweight aluminum alloy, resulting in a sturdy yet lightweight design that can be easily carried for extended periods.
With a slim profile and ergonomic grip, the P938 offers comfortable handling and a secure hold, enabling shooters to maintain control and accuracy. The single-action trigger provides a crisp and consistent pull, promoting precise shot placement. Equally, Equipped with Sig Sauer's proprietary X-Ray3 day/night sights, the P938 ensures quick and accurate target acquisition in various lighting conditions.
Compact Size, Substantial Power of Sig Sauer. P938
Don't let its small size deceive you; the Sig Sauer P938 packs a punch. Chambered in 9mm, this micro-compact pistol offers substantial firepower in a package that easily fits in your pocket or concealed holster. Also, The P938 features a capacity of 6+1 rounds, allowing for confident self-defense and discreet carry. With its manageable recoil and excellent accuracy, it is an ideal choice for both novice shooters and experienced professionals.
Enhanced Safety and Reliability
Sig Sauer prioritizes safety, and the P938 exemplifies this commitment. The pistol is equipped with a variety of safety features, including a thumb safety, a firing pin safety block, and a disconnect safety. Also, These mechanisms ensure secure operation, preventing accidental discharges and promoting peace of mind.
Furthermore, the P938 incorporates Sig Sauer's renowned reliability, meaning you can trust this firearm to perform when it matters most. Its robust construction and rigorous testing guarantee consistent functionality and durability, even in demanding conditions.
 Customization and Accessories
More so, The Sig Sauer P938 offers a range of customization options to suit individual preferences. With various grip options, finishes, and sight configurations available, you can personalize your P938 to match your style and shooting requirements. Additionally, an accessory rail allows for the attachment of lights, lasers, or other compatible accessories, enhancing versatility and adaptability.
Conclusion
Whether you're a concealed carry permit holder or simply in search of a reliable and compact pistol for personal defense, the Sig Sauer. P938 is a top-tier choice. Its superior design, exceptional performance, and commitment to safety make it a standout in its class. Generally, Trust in the Sig Sauer P938 to deliver unmatched versatility, power, and peace of mind in any self-defense situation.
References: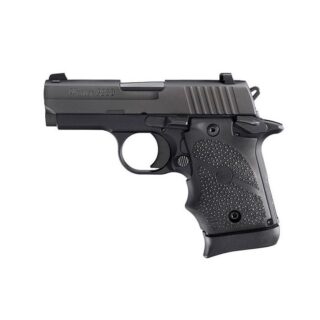 Sig Sauer. P938. (n.d.). Retrieved from https://multigunshop.com/website
Sig Sauer. (n.d.). In Wikipedia. Retrieved from https://en.wikipedia.org/wiki/Sig_Sauer
Related products
Glock 43 Semi-Auto Pistol – 9mm

$

499.00

The Glock® 43 Semi-Auto Pistol utilizes a single-stacked magazine in 9mm to make it slim and compact, specifically for concealed carry use. Made with the same materials and quality control as all Glock semi-automatic pistols, the G43® is a carry gun with the power of a 9mm field gun that you can count on for survival. Internally, the Glock 43 employs the same striker fired, short-recoil operated, and locked-breech barrel as the larger framed Glock pistols. The Safe-Action trigger system makes shooting in stressed situations infallible. The rough textured polymer grip provides a solid hold, and while the G43 is quite concealable, the grip offers shooters enough surface area for ultimate control. The white-dot front sight and the white-bracket rear sight provide rapid acquisition in dim lighting situations. The length, shape, finger rest, and size of the trigger opening are the same as the larger pistols, and the trigger is the same size, making them all familiar to those who already use Glock pistols. The Glock 43 Semi-Auto Pistol is a reliable, easy to maintain firearm that's perfect for everyday carry. The G43 comes with 2 ultra-reliable single-stack 6-round magazines.
Manufacturer model #: PI4350201.

Single-stacked magazine
Slim, compact concealed carry gun
Same materials and quality control as all Glock pistols
Striker fired, with Safe-Action trigger system
White-dot front sight and white-bracket rear sight
Great for those already familiar with Glock pistols
Comes with 2 ultra-reliable single-stack magazines

Add to cart